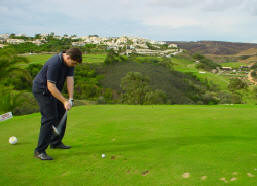 Holes: 18
Length: 5,673 metres
Par: 72
Extras: PGA Golf Academy
Tel: 282 690 054
www.parquedafloresta.com

A 5 minute walk from the villa. With no two holes remotely similar, the variety and appeal of this unique course are endless. Meandering through the undulating terrain, it offers fantastic views of the surrounding Algarve countryside and the Atlantic Ocean beyond. A challenging layout and built on mainly hilly terrain with both coastal and inland views. The course has a variety of interesting and unusual holes, starting with a long sloping par-4 requiring an approach shot where a large hollow on the left comes into play.
On the short fifth, only 88 metres from the yellow tees, played from an exposed hill-top to the green on the crown of a hillock, club selection can vary widely in the fickle winds. The memorable par-3 fifteenth is played over a valley with a small lake. Another lake comes into play on the par-3 11th and par-4 16th and 17th holes.

Holes: 18
Length: 6,053 metres
Par: 72
Extras: Driving range
Tel: 282 782 151 www.boavistagolf.com
This new addition to the Western Algarve is a superb course set above the town of Lagos with a fascinating variety of holes and some interesting water features. Set within a 260-acre area, much of this spectacular new 6,053-m long course is surrounded by land being left in its natural undeveloped state. Designed by Howard Swan, it is built on naturally rolling terrain with hundreds of indigenous trees and palms.




The course affords golfers spectacular views over nearby Lagos and the western coastline, as well as inland towards the Monchique hills. Strong candidates for the signature hole are the par-3 sixth played over a deep ravine, the par-four 7th and the scenic 14th measuring 194m off the yellow tees where a lake comes into play.

7 PESTANA

PESTANA - PINTA COURSE

The Monchique Hills form the spectacular backdrop to this excellently designed course. Most of the natural contours of the terrain were retained as was the majority of the centuries-old olive trees, one of which has been estimated to be over 1,200 years of age. Large, sometimes deep bunkers and fine, fast undulating greens are strong features of the course. The par-3 seventh is one of the signature holes, played over a valley to a well-bunkered wide, but not deep, green demanding a high, soft-landing shot.
Holes: 18
Length: 6.151 metres
Par: 71
Extras: David Leadbetter Academy® with Chipping green
Tel: 282 340 900

PESTANA - GRAMACHO COURSE

Was an unusual "double-nine" course but nine new conventional holes were opened for play in September, 2002. Inserted after the original 4th double hole, the new loop was designed by Nick Price and Rick Elliott, head architect to Ronald Fream. Apart from areas near the lateral boundaries, the new holes are fairly wide open, with little or no rough, so golfers can keep up a steady pace of play. The scenic 10th is a downhill par 3 with lakeside green guarded by bunkers and palm-trees. After the 13th hole, players return to the original five closing holes with their familiar optional sets of tees and large optional greens, affording a pleasant mix of old and new on natural, contoured terrain.
Holes: 18
Length: ± 6,100 metres
Par: 71
Extras: David Leadbetter Academy® with Chipping green
Tel: 282 340 900


8 VALE DE MILHO

This compact par-3 9-hole course in Carvoeiro is one of only three in the Algarve. It offers an interesting variety of holes to test golfers' short game abilities. Features include regular sized greens, water hazards and bunkers similar to those on a full course. With holes ranging in length from 60 to 164 metres, the layout is located in a park area within a quality residential complex. Good amenities and service ensure a friendly club atmosphere for residents and visitors alike. Ideal for holiday-makers who wish to combine a little golf with visits to neighbouring beaches.
Holes: 9
Length: 926 metres
Par: 27
Extras: chipping & putting green
Tel: 282 358 502


9 SALGADOS

This coast line course features several links holes by the beach but with a difference: Salgados has by far the largest number of water hazards to be found on any course in the Algarve - fourteen in all. Accuracy of shot-making is therefore of extreme importance. This is specially the case with the par-5 sixth where there is a large lake on the right and rough to the left of the narrow fairway. The 12th is a short par-3 to a two-tiered green just beyond a lake and guarded by bunkers on each side. Sea and land breezes across the low lying terrain affect the playing conditions, making this a challenging course that demands concentration.
Holes: 18
Length: 6,080 metres
Par: 72
Extras: Driving range
Tel: 289 583 030


10 BALAIA

This executive par-3 nine-hole course is part of the Balaia Golf Village complex just east of Albufeira.Built on pleasant, undulating terrain with umbrella pines, cork oaks and carob trees. The course has holes measuring between 73 and 160 metres in length (58 to 147 metres for ladies), demanding a wide range of club selection for tee-shots. Excellent for holiday golf and sharpening one's short game.
Holes: 9
Length: 983 metres
Par: 27
Extras: Driving range and golf school
Tel: 289 570 442


11 PINE CLIFFS

The spectacular Pine Cliffs clifftop nine-hole layout is set against a glorious backdrop of the Atlantic. Only 2,324 metres long and with one par-5 hole, it is a pleasantholiday course set amongst umbrella pines, although narrow, undulating fairways demand accurate placing of shots. The pièce de résistance is the last hole, a par-3 aptly named 'Devil's Parlour', where a long shot from the clifftop tee must carry a deep chasm in the reddish cliffs in order to the reach the green located close to the hotel grounds. Another memorable hole is the short par-4 second where one is tempted to thread the drive between two tall pinetrees not far short of the well-guarded green.
Holes: 9
Length: 2,324 metres
Par: 33
Extras: Golf Academy
Tel: 289 500 113

12 VILAMOURA

VILAMOURA - THE OLD COURSE

A mature course of classic English layout opened in 1969, with mainly narrow pinetree-lined fairways. Renovation work to the irrigation system, re-seeding and general upgrading was carried out, and a completely new clubhouse built in 1997. This is one of the favourite Algarve courses of both visiting and resident golfers. The one and only lake is on the attractive par-3 fourth where the tee-shot must clear not only the water but also a pine and a bunker fronting the green. The back nine has three par-5's with the long 16th requiring three precise shots to avoid the menacing pines and to reach the green safely.
Holes: 18
Length: 6,254 metres
Par: 73
Extras: Driving range and putting green
Tel: 289 310 341

VILAMOURA - PINHAL GOLF COURSE

The course opened in 1976, but several holes were re-constructed in 1985 and 2001 to improve its playability and appeal to all levels of golfers. Pinetrees are also a strong feature, and combined with the comparatively small greens, mean that accurate shots are required on most holes. The par-4 fourth is an interesting hole where one needs to play for position from the tee as a lake comes into play on the approach shot. Careful play is also required on the par-3 twelfth with its contoured green guarded by bunkers. The excellent closing hole is a par-4 with a downhill approach shot to a well defended sloping green.
Holes: 18
Length: 6,353 metres
Par: 72
Extras: Driving range
Tel: 289 310 390

VILAMOURA - LAGUNA GOLF COURSE

This parkland course built on low-lying coastal land has many heavily bunkered greens and several water hazards to take advantage of the high water table.
More exposed than the other courses at this large resort, Laguna is often influenced by the sea breezes. The 9th is a tricky par-4 with an old well in the middle of the fairway and a lake on the right, all the way to the green. Played from a raised tee, the par-3 17th has a threatening lake on the left.
Holes: 18
Length: 6,111 metres
Par: 72
Extras: Driving range
Tel: 289 310 180

VILAMOURA - MILLENNIUM GOLF COURSE

Opened in May 2000. This is an extremely attractive, quality course. It is situated adjacent to the Laguna layout with which it shares a spacious, modern clubhouse. The first nine holes are completely new and were built mainly in amongst typical Algarvean pinewoods. The par-3 6th with its lakeside green is destined to be one of the signature holes. The back nine holes, part of the former 27-hole Laguna course, are located on flattish undulating terrain and have been refurbished and partially modified.
Holes: 18
Length: 6,157 metres
Par: 72
Extras: Driving range
Tel: 289 310 188


VILAMOURA - VICTORIA CLUBE DE GOLFE

Opened in June, 2004, this Palmer-designed layout is the jewel in the crown of Vilamoura's 5 courses. The Victoria, located on attractively landscaped open land just west of the Millennium course, contains many ancient olive and carob trees. The wide fairways and large greens are inviting but water comes into play on 8 holes, mainly over the back nine, including the 11th to 13th that form a triangle - already dubbed Victoria corner. The 18th, an appealing par-4, demands a tee-shot between a lake and bunkers to set up the ideal line in to the green.
Holes: 18
Length: 6,560 metres
Par: 72
Extras: Driving range
Tel: 289 310 333 or 341

13 VILA SOL

The course is laid out on ideal undulating terrain in amongst natural woods, mainly pines, carob and fig trees, and little artificial landscaping was required during construction.
Several water hazards were, however, introduced. The original 18-hole course, opened in 1991, was the venue of the Portuguese Open in 1992/3. In 2000, a third 9-hole loop was opened, named the Prestige, and the others are now the Prime and Challenge loops. With its large, contoured and often speedy greens, together with several long, testing par-4 holes, the course is an excellent challenge for golfers of all handicap levels.
Holes: 27 Par: 72 (each 18-hole combination)
Lengths: PRIME+PRESTIGE 6,320m, 10-27 — CHALLENGE+PRESTIGE – 6,173M — PRIME+CHALLENGE – 6,335 METRES
Extras: Driving range & academy
Tel: 289 300 505 / 522


14 VALE DO LOBO

VALE DO LOBO - ROYAL COURSE

Combines nine original Henry Cotton designed holes with nine conceived by Rocky Roquemore and opened in 1996. It incorporates the world-famous par-3, the 16th, with an extensive carry over the russet cliffs, and which is the photographers' favourite. One of the signature holes is the par-3 ninth over a lake to a spectacular semi-island green. Another fine hole is the challenging par-4 twelfth with sharply contoured fairway and a large green bunkered on all sides.
Holes: 18
Length: 6,050 metres
Par: 72
Extras: Driving range
Tel: 289 353 465

VALE DO LOBO - OCEAN COURSE

Upgrading started in 2002 is now complete, with 3 new holes replacing former ones. A new lake comes into play on a several holes and hole 1 is now a tough par-4 (stroke index 1), 423m off the back tee. A course with lovely scenery, not be missed.
Holes: 18
Length: 5,815 metres
Par: 72
Extras: Driving range
Tel: 289 353 465

15 QUINTA DO LAGO

QUINTA DO LAGO SOUTH

The championship course within the 800-hectare estate of the same name, has hosted the Portuguese Open eight times. The layout favours the long hitter but correct placement of shots are needed to score well. Strategic bunkering, occasional water hazards and large, contoured greens are the main challenges. The signature hole is the beautiful par-3 15th with a long carry over a large lake to the green set in amongst pine trees. The 8th, 10th and 18th are excellent testing par-4's for low-handicap players on this scenic course which is an enjoyable experience for players of all standards.
Holes: 18
Length: 6,488 metres
Par: 72
Extras: Driving range
Tel: 289 390700

QUINTA DO LAGO NORTH - (EX-RIA FORMOSA)

Is basically the same style as Quinta do Lago South course, Quinta do Lago North is notable for its four fine par-5 holes and many dog-legs where accuracy off the tee is a must. The tricky downhill par-3 fourteenth with its green well defended by bunkers on either side is an outstanding challenge. A majestic 480-m par-5 finishing hole demands a drive over a lake and between fair-way bunkers to set up the ideal second shot, with the approach up a steep rise to the green.
Holes: 18
Length: 6,205 metres
Par: 72
Extras: Driving range, permanent bar by 9th tee
Tel: 289 390700


16 SAN LORENZO

This magnificent Joseph Lee and Rocky Roquemore 18-hole layout opened in 1989, and is currently considered the fifth best course in continental Europe by Golf World magazine. It comprises several scenic and testing holes culminating in the memorable 18th with an exhilarating approach to the well defended green across a lake. The 6th, 7th and 8th are tight, challenging holes skirting water hazards along the right hand side. The immaculately maintained course, which is owned by the well-established Le Meridien Dona Filipa Hotel nearby, is open to visitors although priority is given to hotel guests who pay nominal green-fees. Course privileges are also granted to Le Meridien Penina Hotel guests.
Holes: 18
Length: 6,238 metres
Par: 72
Extras: Driving range
Tel: 289 396522 / 289 396534


17 PINHEIROS ALTOS

An independent 18-hole course built on the Quinta do Lago estate. Here is an unusual layout with two nines of contrasting character. The outward nine meander through typical Algarvian pine woods whereas many water hazards must be negotiated coming home. The course embraces part of the Ria Formosa nature reserve, making this another course of beauty and challenge for players of all standards. The outstanding par-3 fifth calls for a mid-iron shot played across a valley full of umbrella pines to a heavily contoured green. Hole number 12 is a par-5 that requires careful positioning of shots to avoid a watery grave on the left.
Holes: 18
Length: 6,182 metres
Par: 72
Extras: Golf Academy
Tel: 289 359 910


18 COLINA VERDE

This new executive course is integrated into the rural Golf-Domizil Colina Verde Aparthotel complex near Moncarapacho, east of Faro. Basically it is a par-3 course but the 2nd hole is a 243-metre par-4. It features challenging full-size greens with subtle contours, and a water hazard that comes into play on three holes, particularly the 160-metre 5th. Ideal for beginners, holiday golfers and those seeking short game practice.
Holes: 9
Length: 1,117 metres
Par: 28
Extras: Chipping/bunker practice area
Tel: 289 790 110


19 BENAMOR

A course with striking mountain and ocean views, located just east of Tavira. The rolling terrain was wisely used by the designers to produce widely varying holes. With three short par-4's and a par-3, the start is relatively uncomplicated. However, precision on many tee and approach shots is a must. The inward nine features several memorable holes, e.g. the tricky par-3 tenth over water and unplayable rough left of the green, and the two par-5's, the 15th and 18th, the latter having out of bounds areas on either side close to the green.
Holes: 18
Length: 5,497 metres
Par: 71
Extras: Driving range and chipping green
Tel: 281 320880

20 QUINTA DA RIA

Opened at the end of 2001, this impressive 18-hole course just east of Tavira borders on the Ria Formosa nature reserve. Although affording spectacular ocean views, it is built on gently undulating terrain and includes five man-made lakes, one of which - alongside the scenic par-3 17th - has an island and is already the habitat of many species of birdlife. Hundreds of old olive and carob trees were transplanted on to the course, and since the vineyard and orange orchard surroundings will be devoid of housing development, the natural atmosphere will be retained. This Roquemore designed course has four par-3's, four par-5's and the rest par-4's, divided equally into each 9-hole loop. The bent-grass greens are slightly undulating and well guarded with bunkers.
Holes: 18
Length: 6,090 metres
Par: 72
Extras: Driving range and academy
Tel: 281 950 580


21 QUINTA DE CIMA

Stretching southwards from the EN125 road on a 62-hectare area, this layout belongs to the same complex as Quinta da Ria. It is also a Roquemore design and provides an interesting challenge to golfers of all standards, with well-guarded greens, several close to hazards of both the water and sand variety.
Holes 4, 5, 6 and 13 are crossed by a stream that includes a few small dams, but golfers will require concentration as the magnificent hilly inland and ocean views can be distracting. Continuity of the tranquil natural setting is assured since there will be no housing development around the course.
Holes: 18
Length: 6,256 metres
Par: 72
Extras: Driving range and academy
Tel: 281 950 580

22 CASTRO MARIM GOLFE AND COUNTRY CLUB

Opened in 2001 this challenging 18-hole layout, the Atlantic Course, is part of a 225-hectare property development near the historical town of Castro Marim, close to the Spanish border and the River Guadiana.
It is built on attractive rolling terrain with pines and a variety of other tree species, and affords scenic views of the river, Atlantic Ocean and a backdrop of hills.
Holes: 18
Length: 5,265 metres
Par: 71 (73 for ladies)
Extras: Driving range and academy
Tel: 281 510 330